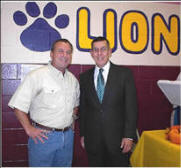 We make it a point to, "never say no" when it comes to any requests from the School Principals' or F.M.O.. Our company has several years of true, multi-line construction experience and can site several, specific examples of our good work throughout the District. Our talented crews take pride in possessing a wide multitude of skills which allow us to be nimble, efficient, and quite effective when tackling small jobs that the District just can't find the time to do.

We have flexible hours that will adjust on a "project to project" basis so as to cause the least amount of disruption to the schools and the children's learning processes. We know how easily a child's mind can wander from their schoolwork. We don't want to be the reason why it might.

We work quietly. We often work after hours and on weekends without additional fees, ever. We always give you small company service with "Direct to the Top" access, twenty four hours a day via cell phone, e-mail, fax, and telephone. We care and we always want you to be happy. We overbuild for strength. We modify for beauty. All our work is strong and clean to the eye. All repairs will be as seamless as possible. We care about that. We are here for the long haul.

Corte Enterprises has done many projects for H.I.S.D., including major structural and reconstructive projects in several school buildings, gymnasiums, cafeterias, and cafetoriums throughout the District. Naturally, we are committed to student, faculty, and worker safety, and will get the job done on-time, and with a minimal amount of class disruption.

Value
Value in construction begins with pricing, but it also entails the ability to quickly mobilize and manage projects for better quality and shorter schedules. Corte Enterprises has meant value in construction on many projects since its founding. Here is why we can consistently offer better value for your construction dollar:
Safety
Our comprehensive loss control program assures all operations are performed with maximum safety. Pre-job meetings are held to acquaint field staff and subcontractors with specific safety requirements and necessary protective equipment and materials to help prevent accidents.
Competitive
Corte Construction is a highly competitive contractor. Our detailed knowledge of costs, excellent relationships with quality subcontractors, and our ability to self-perform key portions of a project when appropriate, allow us to deliver consistently competitive pricing on a wide range of projects.
Resources
Corte Enterprises brings to every project an array of professional talent. With an extensive network of labor, material, and equipment resources, in addition to our own forces, Corte Enterprises can always find a way to better meet owners' project needs. Please read our clients testimonials to see how Corte Enterprises has helped numerous owners meet their cost, schedule, and quality objectives again and again. We would welcome the opportunity to perform in this way on your next project.
Management
With Corte Enterprises, our customers receive the attention and expertise of a tight, highly experienced top management team. Our principals are directly involved in each project, enabling faster decisions to be made and better service to clients. In the preconstruction phase, our executives thoroughly review estimates and plans, seeking ways to build more efficiently. During construction, our principals monitor progress on a daily basis to expedite project completion.